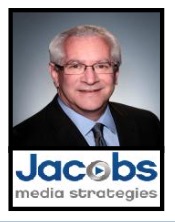 Wednesday, February 1st - 12:30 p.m. to 4:00 p.m. Bridgeport Conference Center, Bridgeport
Thursday, February 2nd - 9:00 a.m. to 12:30 p.m. Holiday Inn & Suites, South Charleston
Digital Disruption: Challenges & OPPORTUNITIES For Broadcasters
All broadcasters are facing disruption on many fronts. The way that listeners and viewers consume content is going through major changes. The country is undergoing a massive generational shift. Social media opens up a new way to communicate and connect. Smartphones have rapidly become a significant way to consume media. Ratings companiesarehavingtroublekeepingupandmeasuringuse. Andtheadvertisingmodelis changing, as clients are facing an avalanche of new options and ways of determining a successful return on their investment.
This creates many challenges for broadcasters, from which digital channels to invest in, to training sellers on how to adequately monetize them. But it also creates opportunities, as broadcasters have more tools than ever to reach audience and deliver them to their clients.
Media specialist Paul Jacobs from Jacobs Media will help West Virginia broadcasters sort through the noise in a fast-paced presentation, which will cover the following issues utilizing real-world examples, research and stories from the field:
What are "radio" and "television" in a digital world where cord-cutting and on-demand content is proliferating?

Using digital advertising solutions as a critical partner to traditional advertising solutions.

Examples of revenue-generating solutions utilizing social media, mobile, web, database

Understanding what "content" is and how it can be re-purposed for revenue generation.

Positioning the advantage of being a local broadcaster in a digital world.

A video interview with the head of dealer co-op from Ford, as he explains why he is pushing so many dollars into digital, and what he recommends broadcasters should do.
Paul is the Vice-President, General Manager of Jacobs Media, a research and consulting company based in Detroit. For the past three decades, he has worked with broadcasters on developing revenue solutions based on adjusting to new opportunities and challenges. He began his career in radio sales, and was a General Manager of stations in Dallas and Detroit prior to joining Jacobs Media in 1991. He is also the President of jacapps, one of the largest developers of mobile applications for media, so he understands not only the broadcast business, but the digital business as well.
Charleston, WV - The West Virginia Broadcasters Association (WVBA) will hold the 2016 WVBA Gubernatorial Debate on Tuesday, October 11th at 7:00 p.m. between Democratic candidate Jim Justice and Republican candidate Bill Cole. The debate will be moderated by Hoppy Kercheval and will be aired live across the state on both television and radio.
"The association is proud to carry on their tradition of the live statwide debate, providing West Virginians an opportunity to hear directly from the candidates their plans and initiatives for the future of our state. As we move forward in these difficult times, an informed voting public will make the best choice in the voters box," said Michele Crist, WVBA Executive Director.
The West Virginia Broadcasters Association has been representing and serving West Virignia commercial radio and television stations since 1946. Member stations are committed to bringing viewers and listeners the important, relevant and exciting news happening in West Virginia.
Grand Total $334,711

Broadcasters came together around the state Friday night to Rebuild West Virginia and raise $334,711 for flood relief.

The event was originated out of the WVVA Studios in Bluefield fl-ui aired on the following WV stations: WVVA, WSAZ, WOVA, WDTV, WCHS, WVAH, WOAY, WV Public Broadcasting and WVMetroNews.com.

The program was also aired across the country on CNN Live, three television stations in Virginia and sixteen Quincy Media stations throughout the Midwest. WVVA did the heavy lifting and enabled television stations across the state to participate with their talent and spread the word to their communities.

All were unified with the message that help was still needed in the flooded areas and dollars were crucial to help families start the long journey of rebuilding.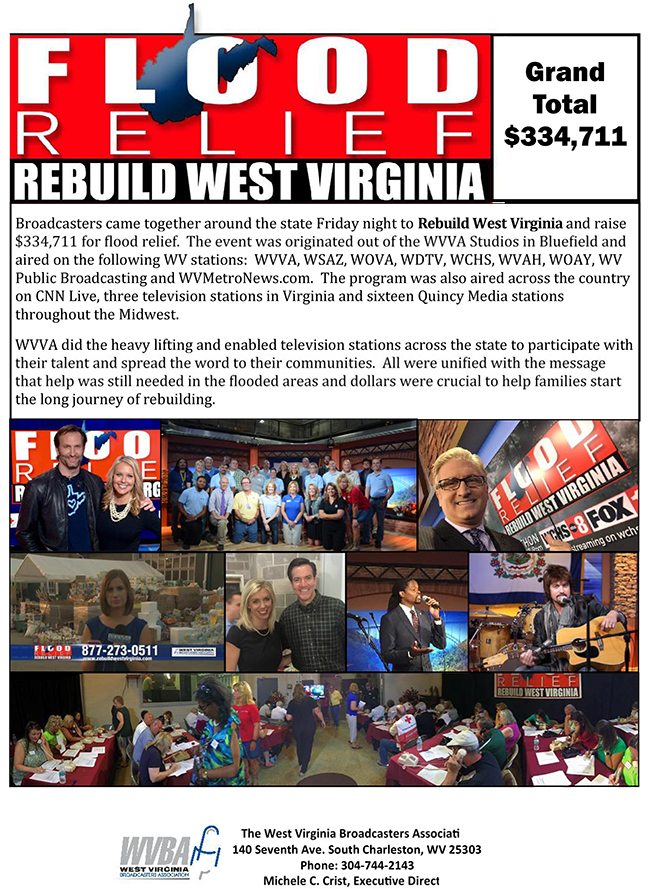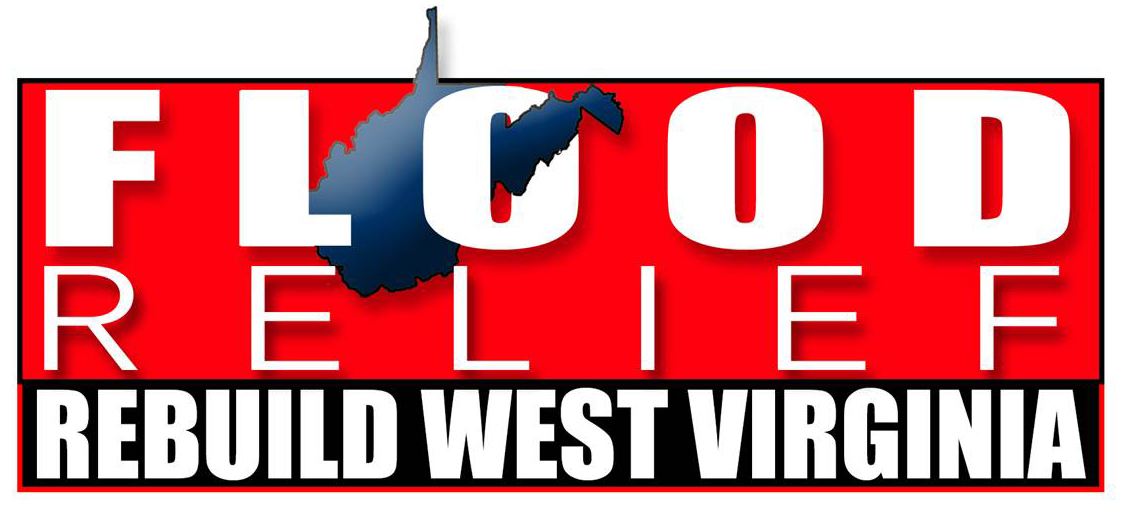 West Virginia will take its efforts to raise funds to the airwaves Friday night, July 1st from 7pm to 9pm.

Rebuild West Virginia will devote two hours towards raising funds for flood relief. Proceeds will go directly to the Red Cross relief efforts across all affected areas of West Virginia.

The WV broadcast industry prides itself in holding true to their mission of keeping communities well informed and up to date on their surroundings. We believe our television and radio stations have carried this out very successfully. Countless hours of reporting and delivering invaluable information to the public has helped saved lives. We are extremely proud of their efforts to date and assure West Virginians they will continue in-depth coverage through the rebuilding of these beautiful communities.

Joe Parsons, President of the West Virginia Broadcasters: "The members of the West Virginia Broadcasters Association have always been at the forefront when it comes to serving our communities. In the wake of the devastating floods that have impacted so many West Virginians, we want to use the power of Radio and Television to do all that we can to help those in need. On behalf of the WVBA, I want to thank Frank Brady and his entire staff at WVVA-TV in Bluefield for leading this effort and each and every broadcaster who will be participating. Thank you also to all of our member stations who have executed their own efforts to help out the flood relief. I would like to ask every West Virginian to say a prayer for those fellow Mountaineers who have been affected and to dig deep in your pockets to help them during this very important event."

Rebuild West Virginia will originate out of the WVVA Studios in Bluefield, WV and be aired on the following WV stations: WVVA, WSAZ, WOVA, WDTV, WCHS, WVAH, WOAY, WV Public Television and WVMetroNews.com. The program will also be aired across the country on CNN Live and 17 television stations in Virginia and the Midwest.